What is a Domain Name?
A domain name is the Web address attached to a site. You use this technology on a daily basis when you type a destination into your browser address bar and click from one site to another.
Domain names were introduced as an easy way to navigate the Web. Instead of trying to remember 9 digit IP addresses we need only to recall the often-catchy domain that is assigned to the IP address.
Domain Name Basics
This might seem like a pretty basic topic but it's not. While we don't endorse an awkwardly scientific approach to domain name selection, we do have a few basic "rules" for this aspect of doing business (or promoting anything personal) online.
We've seen some pretty glaring mistakes made in this regard and rest assured a major blunder in this area will cost you money in lost sales, or will result in a lower response if money is not your objective.
With this in mind let's look over a few basics of good domain name selection.
Domain Name Continuity
The best domain names are those that reflect the exact name of the company, product, person, organization, or theme being promoted by the Website in question. This just makes good sense, and of course it's easy for your customers and prospects to find you; even if they forget your site address they can always wager a guess based on your name, or your company or product name.
A lot of entrepreneurs will use their first and last name for their primary business domain. We recommend that everyone register their name as a domain, even if only to use as a personal blog, because this is a very powerful way to promote your professional identity or your personal profile.
Of course it's not always possible to find the exact domain name you want, so using your company, product, or personal name might not be an option. Don't be afraid to use a little flexibility here.
For instance, we had a client who owned a company called Possmann. They could not acquire Possmann.com so they opted for Possmannusa.com.
If an acceptable spin on your company or product name cannot be found you might be able to register a domain based on a tagline, slogan, or registered trademark statement used by your company. This technique is best if there is considerable recognition of this statement within your market, or if you intend to create such recognition by aggressive branding campaigns.
.com Is Still The King
There are plenty of entrepreneurs who will not agree with our opinion here, but as far as we're concerned, a .com domain is the only option worth the registration fee.
Most Internet users will automatically assume the .com, so if you register a .net, .org, etc. there is a good chance you'll be sending traffic to somebody else's Website from time to time when folks enter the .com domain into their address bar by way of habit.
If we're absolutely had to use a TLD (Top Level Domain) other than a .com we would choose .net, but truthfully we can't imagine a situation that would require this.
Should You Register All The TLDs?
The question often arises as to whether a new site owner should go ahead and register the .com, .net, .info, and .org in order to control all possible versions of their domain. This is actually a smart thing to do, but we admit we don't always take the time to do it.
As long as we get the .com, we're happy. But there is good logic in getting all available TLDs (Top Level Domains) and either redirecting them to the .com or actually using them for a blog, support desk, etc.
Keep It Simple
It's important to avoid complicated domain names that might be difficult to spell.
Not everyone is a spelling whiz and you don't want to lose traffic over something this simple.
By the same token avoid excessively long domains as well. Something short and concise is best.
Make It Memorable!
Having said all of this we want to emphasize: Your domain name should be easy to remember and something worth remembering in the first place!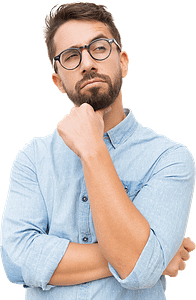 Try your best to come up with something cool, or at the very least very explanatory.
Domains As Your First Step Toward Solid SEO
Another thing you should consider is the value of domain names in your onsite SEO (search engine optimization) practices. It would be ideal to integrate a keyword or keyword phrase directly into your domain name because the search engine spiders place greater value on sites that do this.
Regardless of the domain you choose, you can exercise good keyword usage when you set up subdomains. For instance you might set up a blog using services.yourdomain.com.
A Word About Subdomains
Now let's take just a moment to tell you what a subdomain actually is. Simply; a subdomain is a domain within a domain, or a Web address built on the foundation of a "parent" domain.
This element is used to make things easier or more obvious for a site's users. In the example above using services.yoursite.com tells a user very quickly "hey, here is where you can find our services".
Likewise, something like members.yourdomain.com would be a great place to set up your secure member's area.
Setting up subdomains in this manner is optional. But it's a useful technique and one we wanted to mention briefly.
How and Where To Actually Register Your Domain
Acquiring a domain for your Web business is a snap, and it shouldn't cost you more than ten bucks. We personally recommend Greengeeks for your domain needs because of their solid customer support.
There are many other registrars to choose from but the process is pretty much the same everywhere as far as how to register and what to do thereafter. Again there is no reason to pay more than $10 per year for a good domain name.
You can't actually purchase a domain, but you can register them in increments of one year. Below is a quick tutorial on domain name registration.
On the main page of any domain registrar you will find a simple bar you can use to search for an available domain name. Simply enter your chosen domain name in the bar, being sure to select the proper extension, and click the 'next' button:
If the domain you choose is available, you will be able to add it to your shopping cart and continue. If your choice is not available you will be informed and allowed to continue searching.
Once you find your domain name and continue, you'll often be given the opportunity to buy a variety of other products and services.
You won't need most of the products other domain registrars wants to sell you.
For instance email hosting will be available through any good hosting company, so why pay extra for this service through your registrar? And we don't recommend the hosting provided by most domain vendors as it is often outsourced and of a lesser quality than good commercial hosting.
However we do recommend (and use) Greengeeks for both your domain registration and your Website hosting needs. This great company is one of the rare vendors that provides both of these services at a quality level.