With over 4000 different website hosting providers it can be a challenge choosing a website host that will be right for you and your website.
What you are looking for in in a website host will vary based on your intended purpose of the site. For this review we are assuming that your intention is to build a site that will be SEO friendly, become ranked in google, build traffic, be monetized to produce income and have the majority of traffic from the United States.
Here are the top characteristics you should be looking for in a website host to achieve the above goals.
Website Hosts with the Best Performance
When choosing a website host the first thing to look for is that they provide a framework that will not slow down your website load times. This is the time that your initial and sub pages take to completely load so that users can see and interact with the content. Google has put a lot of emphasis on this and you can read what they are saying about it in many different articles. Here are a few Why Performance Matters, Webmaster Central Blog, and Chrome User Experience Report. Here are some of the things Google says about website performance:
"Performance plays a major role in the success of any online venture."
"At Google, we know that speed matters and we provide a variety of tools to help everyone understand the performance of a page or site."
"The BBC found they lost an additional 10% of users for every additional second their site took to load"
"Performance is a foundational aspect of good user experiences."
I have personally tested Blue Host, Site Ground and Green Geeks with a test website built on one of there shared hosting plans. All of them performed at an acceptable level. With Green Geeks we are able to achieve consistently high scores from the Googles PageSpeed Insights tool as shown in the screen shots of one of our recent projects. We have a little bit of improvement to achieve in mobile speed, but this is more attributed to site structure and optimization than it is to the host performance. For desktop performance we are nailing it with almost perfect scores. Bluehost and Site Ground both produced lower consistent performance in my tests.
Mobile (All content delivery measurement under 5 seconds)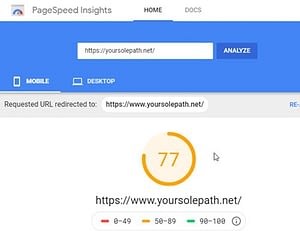 Desktop (All content Delivery Measurement under 1.5 seconds)
This site is small and new but has video, lots of images and a fair number of pages.
Also, important and related to performance is storage and bandwidth limits. Both Site Ground and BlueHost limit either bandwidth or storage GreenGeeks is unlimited in both even for shared hosting.
Choosing a website host with good uptime and a company who won't disappear.
Another very important set of aspects you need to know when choosing a Website host is how dependable the service is and how stable the company is. I have personally experienced a web host I was using go out of business. This can be disruptive and a pain if you are not expecting it. Also dealing with constant host outages and your website being down because of issues with the website host company is also costly and aggravating.
In terms of websites hosted Blue host is the biggest of these three with roughly 4.08% of the market. Blue host has been in the hosting business since 2005 and has significant market share it is unlikely it will disappear. There advertised uptime is 99.9% I personally never experienced an outage with Blue host over a year of having sites with them although I have seen this as one of the complaints in poor reviews about them.
SiteGround is ranked 19th in size with .73% of the market. It was founded in 2004 and was started out of Bulgaria. They were and early player in the shared hosting market and continue to be a strong competitor. They are also not likely to disappear anytime soon. There reliability is also good I have experienced down time with there service before, and it did take them some time to restore service. They do advertise a 99.9% uptime and over all the down time I experienced was minimal.
GreenGeeks currently reported to have over 500,000 hosted websites and 40,000 customers. They have been proving hosting service for over 12 years and they are growing much faster that either Bluehost or Site Ground. They are not likely to disappear, and I would guess they will continue to grow their market share. I have moved almost all of my sites and my customers sites on to GreenGeeks. There uptime has been excellent over the past year that I have been with them.
Website Host with the Best Customer Service.
Here there is no real comparison if you are not an experienced web development professional, choosing a website host with great customer service will likely be your number one priority. Google is great and you can learn a lot about almost any subject, but sifting through the mass amount of incorrect and dated articles to find the information you need to make your website work PROPERLY can be aggravating, time consuming, and costly. GreenGeeks has 24/7 support even after they make the sale. I have never had a problem getting help or the answers from GeenGeeks when I need them. The same cannot be said about SiteGround or Bluehost. I have waited days and played the email tag game with both of them a number of times.
Website Hosting Prices
Blue Host
Duration of Promo: 3 – year sign up required
SITEGROUND
Duration of Promo: 1 year required
GREENGEEKS
Promo Price: $2.95 – $4.95
Duration of Promo: 3 year or 1 year signup
There are many other hosting providers as well and some have very high reviews. The best site I have found to compare all hosting providers is https://hostadvice.com/.
I have used GoDaddy as well and would not recommend them based on the poor performance of the website, their poor upkeep of the WordPress upgrades and poor customer service.
I do have a GreenGeeks affiliate link that I get paid commission on if choose to go with them. If you end up choosing a different host I would be interested to here what you choose and how it goes for you.

Other recommendations
WordPress
I would recommend that for a platform you use WordPress. WordPress has hundreds of different themes that are optimized for SEO and perform much better than drag and drop site builders like Wix, Weebly or Square space. Those platforms are so bloated in user interface and platform specific code that they are much more difficult to optimize for speed and search engine optimization.
Mail Chimp
Mail Chimp provides a great free starter program for email response
SEO Keyword Tool
Uber suggest is a low-cost SEO optimization tool that I would suggest can be used to research Key words and measure how your rankings are going. Google analytics and Google search console are also must haves.
WordPress Plugins
Smush – Image optimization
Lazy Load for Videos
Akismet Anti-Spam
Social Media and Share Icons (Ultimate Social Media)
WooCommerce
I have a reseller account for hosting. With this I can host websites for clients. This is through GreenGeeks and allows me to help with the maintenance and development of sites.
DigiTellus Services and Products Pricing
BASIC MANAGED HOSTING
Website Hosting, WordPress Updates, Plugin Updates, Theme Updates, Email Support, 15 days of daily backups, Monthly Strategy Report
STANDARD MANAGED HOSTING
Basic Managed Hosting plus, Monthly Site Audit, 1 hour of website development
PREMIUM HOSTING
Standard Managed Hosting plus, 2 hours of website development.
WORDPRESS THEME SET UP
Install WordPress Theme with Demo content, Set up admin account and basic WordPress optimization settings, Free SSL installed
BASIC WEBSITE DEVELOPMENT
Install WordPress Theme set up Home Page, Service/Products page, About, and Blog.
STANDARD WEBSITE DEVELOPMENT
Customized Website and Strategy Development
Please don't hesitate to call if you have questions on anything. I am always happy to share what I have learned.
Fritz Templin
Fritz.Templin@DigiTellus.com
760-306-3155