Seo for Websites – Art and Science
Getting online is easier than ever. There are now over 200 million websites which are active. The competition has reached a very high level and SEO for websites or search engine optimization is more important than ever as it improves your search engine rankings and guides you to improve the quality of your website making it user friendly, faster and easier to navigate. Learning how to apply SEO for websites takes some study, planning and execution.
The best time to start thinking about SEO for your website is right at the start. You can get your website SEO started on the right foundation in the beginning and save yourself from trouble later. Here are a few steps you should take to get your new website's SEO plan into place.
Choose your domain name carefully
Domain names are one of the major ranking factors search engines look at to figure out what a page is all about. If its possible to choose a domain name that is easy to remember, relevant and incorporates the main keyword you want to rank for that's the way to go. For example, if your business is making and selling pizza and the domain name www.bestpizza.com is available, that's probably a better choice than www.ThePitStop.com. Although there has been a large amount of information published, by Google themselves, that the use of key phrases in the URL is not important. Our testing has shown that key phrases used in the URL and properly throughout the site produces stronger ranking more quickly. If you already have a business name established then that is what you should use for your URL as not to cause confusion for your customers. Just realize this will be a little tougher to get ranked.
There are various tools that can help you brainstorm ideas for your domain name based on what's available. NameMesh.com is one that works well
Select a reputable and trustworthy web hosting provider
Google has been very upfront about site speed being an important ranking factor when it comes to SEO for websites. Visitors are impatient and website pages need to load quickly. Google judges how it will display websites int he search ranking based partly on how quickly they load. While you have a variety of strategies, you can make your website faster from day one by selecting a website hosting provider that is reputable and can deliver consistent speeds. For more in-depth information on choosing a website host visit our article on that topic.
Performing keyword research is an important step
Keyword research is an important step in good Seo for websites. Several SEO tools provide keyword suggestions and data on the amount of traffic and competition you can expect to receive for every keyword. While choosing your keywords for your business websites, be sure to be realistic. SEO is extremely competitive, and a new website is not in the position to compete for popular broad terms against well established sites with great content. That being said the keyword tools are making estimations and are not always exactly right. If you open a private browsing window in either Google Chrome (ctrl+shft+N) or in FireFox (ctrl+shft+P) and start typing your search term, the auto complete will indicate what other search phrases are most often used.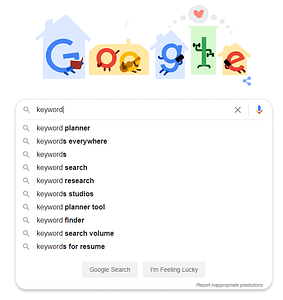 Target primary keywords for each page
Building a key phrase matrix and planning content pages to specifically target key phrases is a must to your long term Website SEO plan. Your initial keyword research can help you gain an overall picture of the language to use when building a website. However, it's also a good practice to choose a target keyword for each individual web page on your site. Then by linking these together in a planned matrix you are helping search engines to see what content you consider to be most important on your site as well a creating a content path that leads visitors easily to related content the may also be interested in.
Use a design which is mobile friendly
Many of the SEO algorithm updates Google has announced in recent years have been about mobile and mobile site visitor traffic. More and more people are using their phones to do most of the browsing, users and search engines expect websites to provide an intuitive mobile experience. Your website needs to look and function just as well on a mobile phone as it does on a desktop or laptop. This is done by building a dynamic website that adjusts to be optimal based on the device it is being viewed on. A winning strategy for website SEO must include a good mobile design.
Optimize Page URLs and Title Tags
Customize the URL of each page on your website. To the best of your ability, create a structure of your URLs that provide the visitor information on their positioning in the site. Using a page URL like MyWebsite/post123/ is not as informative as a URL like MyWebsite/KeyWord-Research/.
The title is the part of the web page search engines see first, it should tell  them about the web page and makes it another good spot to use your target keywords. No need to stuff keywords here. Using your primary keywords once should do the job SEO for websites is as much an art as it is a science.
Optimize the Images and Headings
Customize the name of each image to include the keyword you're targeting and update the alt text on the page with your keyword as well.
Headings are an excellent tool to better organize your copy so that it's easy for you to read and scan-able for your visitors. Your headings are a signal to search engines to tell them what the page is about and that the phrases used in the heading is important. Include your target keywords in the headings, but only where it makes intuitive sense to do so. Don't force the keywords so that they sound strange to the reader.
Optimize text on the page
Search engines notice keyword stuffing and you can be penalized for it. Use your target words in context where they make the most sense and don't over use them. It's best to incorporate them into the text naturally on the page.
Write Unique meta descriptions
Meta descriptions don't directly influence rankings. However, they play a role in your click through rates from the search results. Write a relevant meta description for each page on your website. Incorporate your keywords for the page naturally in the description. Use the space to provide a brief description about what's valuable in the page you want readers to be interested and compelled to click through to your page.
Link to other pages on your website
Internal linking gives a way to signal to search engines what your page is about through the anchor text you use. Internal links also give you a way to show the search engines how your different pages are connected and drive internet traffic from one page on the website to the other. If want your visitors to stick around and spend time on your website, providing helpful internal links is a good way to make that happen.
Submit your Site map to Search Engines
Before your web pages can show up on the results page of the search engine, the search engine has to crawl your website and index the pages. You can speed things up by submitting your site map through the search engine. laying out a site map of all your pages helps the search engine to quickly find them.
Create an SEO plan for the future
SEO is a long-term on-going process. To show up in the search engines when people are looking for the information for your e- commerce website, you have to put some real effort and efficient work into providing consistent value on your website and building credibility for your domain. If you do this correctly it can drive your site up drastically in the searches and that means more visitors to your website.
Start on your plan for long term SEO. It is important that you decide to make it your first priority and take the long view on making progress. The sooner you start with this step, the better off you'll be.
If you need help we are always here for you. Try our free website audit or contact us to help you build a website that gets results.
Website Design and Digital Marketing Experts.